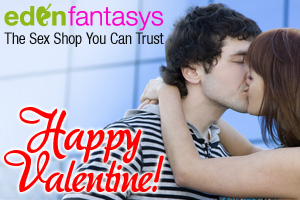 I've been thinking about Valentine's Day gifts for a special someone and thought I'd share some of my favorite gift ideas from Eden Fantasys with you in case you're having the same trouble I am with finding the perfect gift. Since Valentine's Day is all about romance, Eden Fantasys is a great place for gift ideas, and really anything you get there should be a gift for both of you!
This Shunga garden of edo organic collection massage kit is beautifully packaged and has great reviews on the website. The Shunga kit contains five different products including an aphrodisiac oil, massage oil, sensitizing gel, bath salts and lube. In the Beauty and Body section you'll find lots of different massage oils, lotions, candles and kits in addition to fragrances and pheromones.
Flirty lingerie is also always a great gift idea for Valentine's Day. I really like this mesh underwire babydoll and panty set, but you can find all types of lingerie from romantic to super sexy. You'll also find lots of hosiery choices if you'd like to complete the outfit, and there are even lots of plus size choices available.
What kind of Valentine's Day gifts would you like to give or receive? I'd love to hear about your gift ideas for your favorite Valentine!
Disclosure – This is a sponsored post, however all thoughts and opinions expressed here are my own. Please read my disclosure policy for more information.
&nbsp